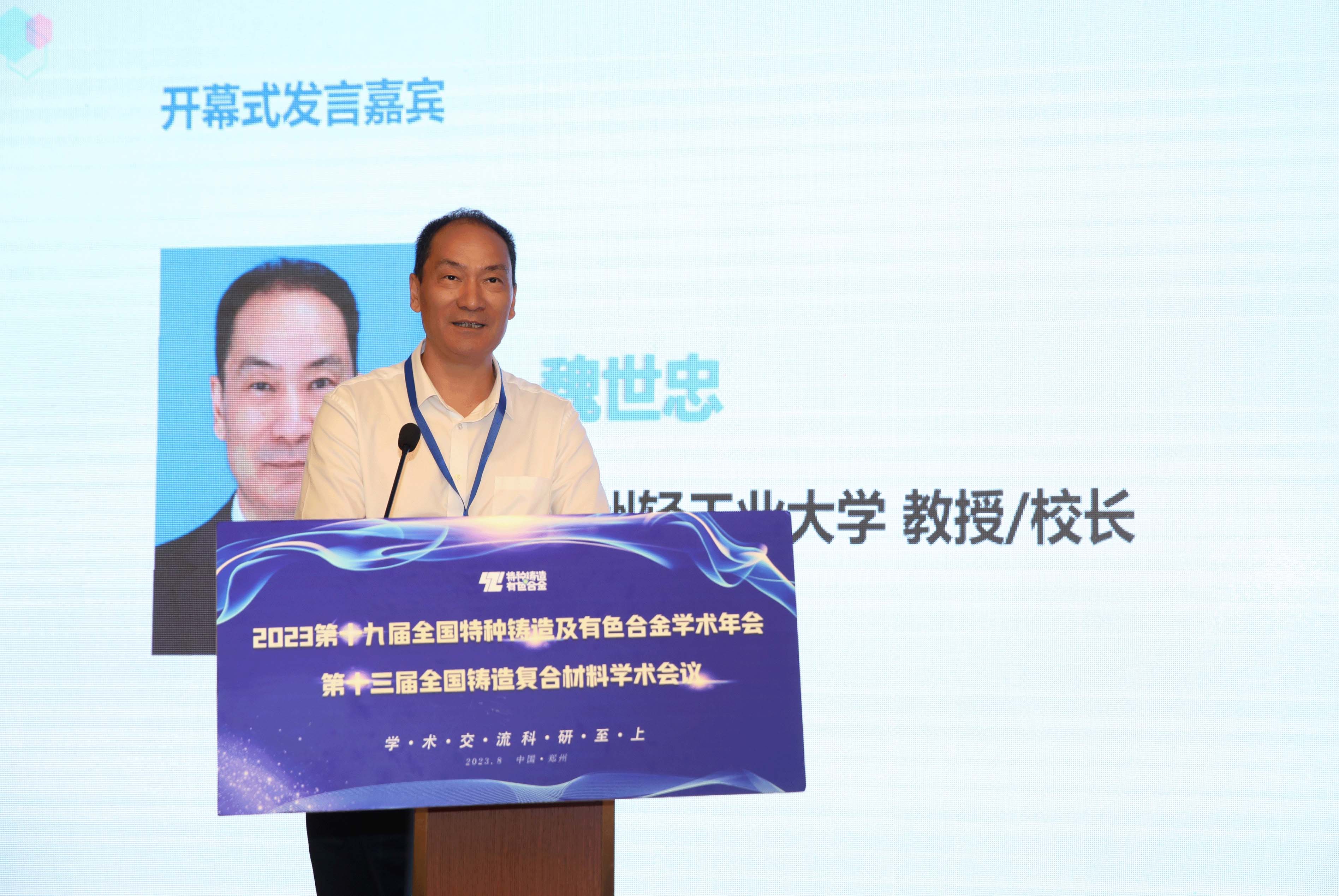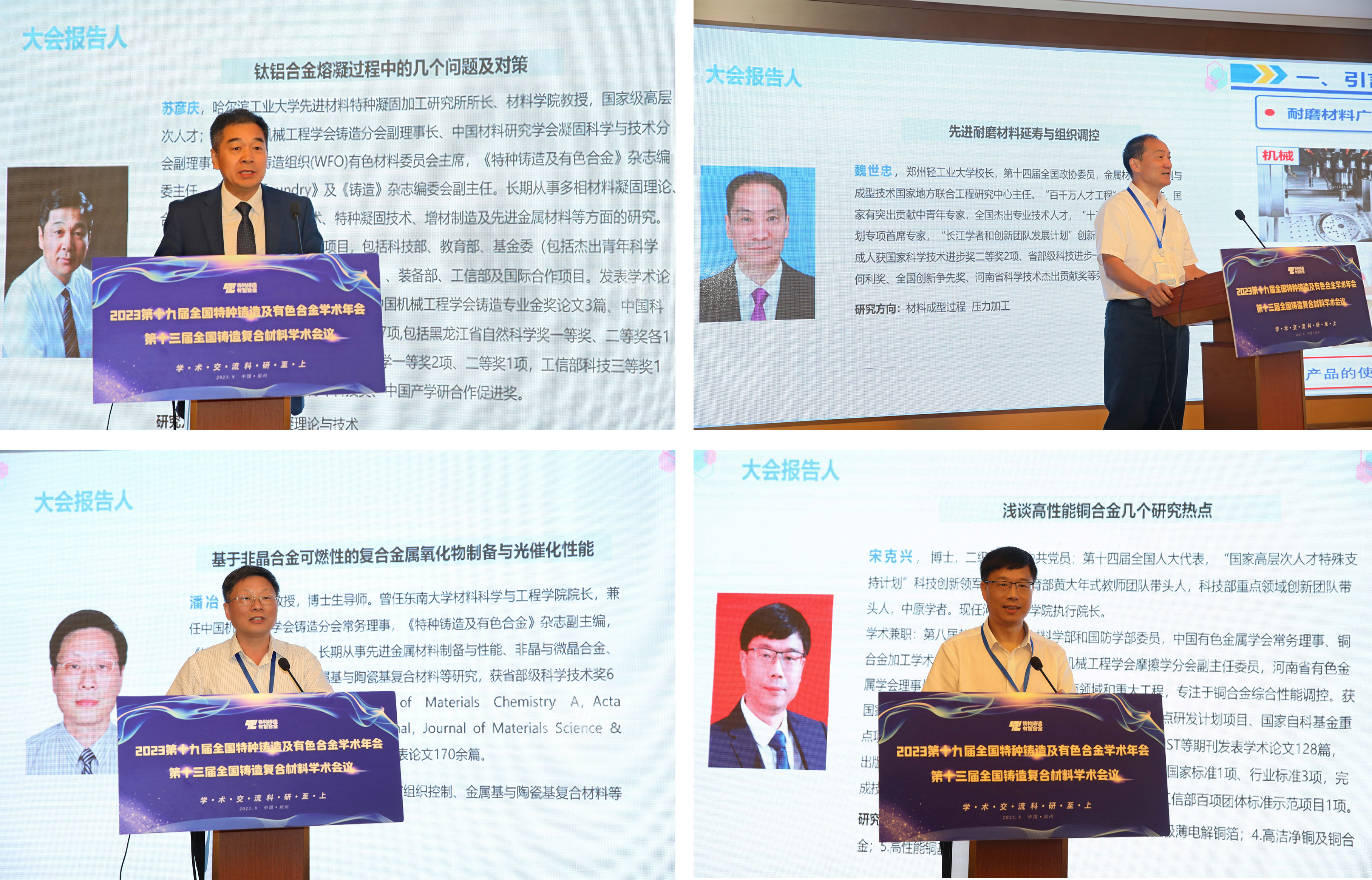 From August 4 to 7, the 19th National Special Casting and Nonferrous Alloy Academic Annual Conference and the 13th National Casting Composite Material Academic Conference, hosted by the Foundry Institution of Chinese Mechanical Engineering Society, Zhengzhou University of Light Industry, Henan Academy of Sciences, and Special Casting and Nonferrous Alloys Journal Office (Wuhan) Co., Ltd., were successfully held at ZZULI. Attendees included more than 400 experts and scholars from over 100 universities and enterprises across the country. Wei Shizhong, President of ZZULI, addressed the opening ceremony and delivered a presentation.
President Wei Shizhong, on behalf of ZZULI, extended a warm welcome and heartfelt thanks to the experts and scholars in the field of materials from all over the country. He delivered a presentation titled Lifespan Extension and Structure Regulation of Advanced Wear-resistant Materials, in which he introduced the research progress made by his team in the databases of low-vanadium wear-resistant alloy technology and basic manufacturing process of high-strength and high-toughness alloy steel and wear-resistant steel, and other fields.
Twenty-five experts, including Academician Chen Guang from Nanjing University Science and Technology, Prof. Su Yanqing from Harbin Institute of Technology, Prof. Sun Debao from Shanghai Jiao Tong University, Prof. Li Yanxiang from Tsinghua University, and Prof. Wang Tongmin from Dalian University of Technology, were invited to give brilliant presentations. In addition, the participating representatives conducted further exchanges and discussions with them in the Q&A form, fostering a sound academic atmosphere on site.
Five thematic forums, i.e., Advanced Light Alloy Forum, Special Casting and Molding Forum, High-temperature and High-entropy Alloy Forum, Metal-based Composite Material Forum, and Wear-resistant Material Forum, and three forums for graduate students were arranged. More than 120 scholars and graduate students from multiple universities, enterprises, and research institutes nationwide made academic presentations and round-table exchanges. Prof. Yan Mi from Zhejiang University, Prof. Fan Zitian from Huazhong University of Science and Technology, Prof. Li Wei from Jinan University, Prof. Li Bangsheng from Harbin Institute of Technology, and Prof. Qi Lehua from Northwestern Polytechnical University were invited to preside over the symposium. Afterward, the participating experts paid a visit to the College of Mechanical and Electrical Engineering of ZZULI and Henan Academy of Sciences, who made positive remarks on ZZULI's development of Henan Key Laboratory of Intelligent Manufacturing of Mechanical Equipment and Henan Research Center for Material Molding and Test Engineering Technologies.