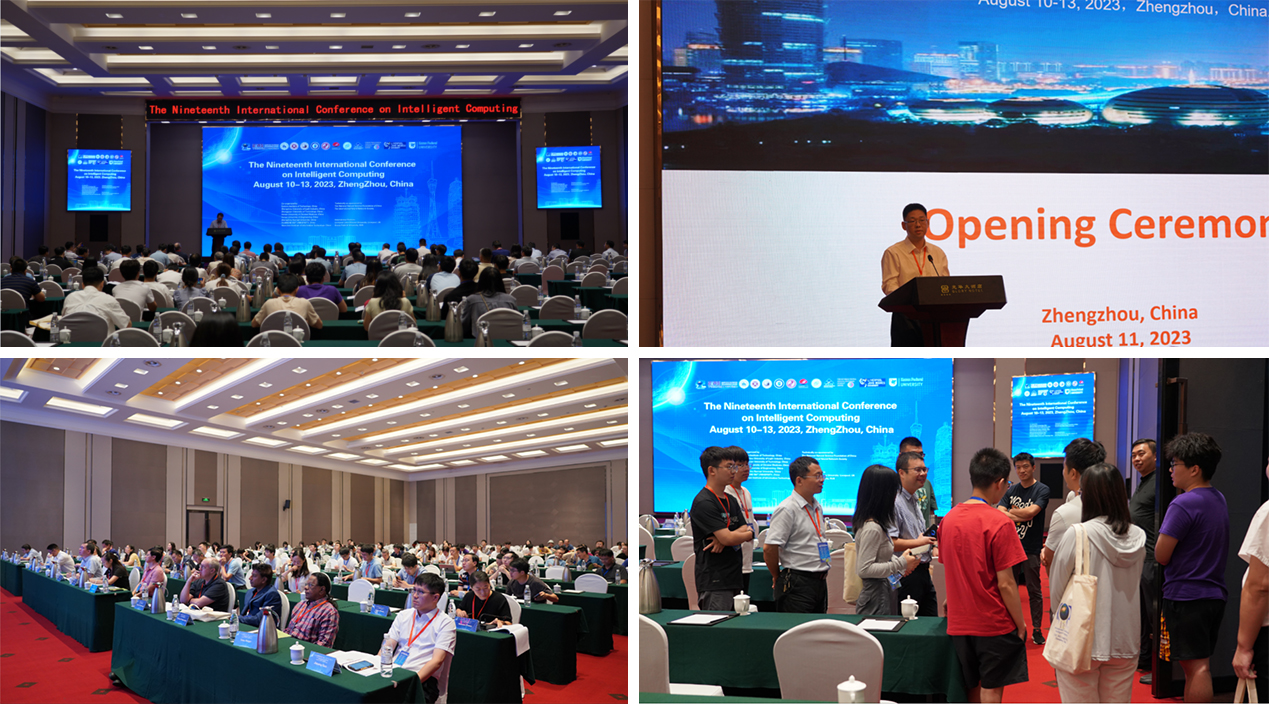 From August 11 to 13, the Nineteenth International Conference on Intelligent Computing was successfully held in Zhengzhou. It was supported by the National Natural Science Foundation of China, hosted by Eastern Institute for Advanced Study, organized by Zhengzhou University of Light Industry, and co-organized by Zhongyuan University of Technology, Henan University of Chinese Medicine, Henan University of Engineering, Zhengzhou Normal University, Huanghe S&T University, and Shenzhen Institute of Information Technology. Attendees included more than 220 experts and scholars from 98 colleges and universities, scientific research institutions, and enterprises in eight countries and regions around the world.
More than 30 experts and scholars, including Prof. Huang Deshuang from Tongji University, Prof. Pan Yijie from Eastern Institute of Technology, Ningbo, Prof. Zheng Chunhou from Anhui University, Prof. Gan Yong from Zhengzhou University of Technology, Prof. Liang Jing from Henan Institute of Technology, Prof. Qu Boyang from Zhongyuan University of Technology, Prof. Jia Zhijuan from Zhengzhou Normal University, Prof. Shao Kaili from Huanghe S&T University, and Prof. Hu Guangwu from Shenzhen Institute of Information Technology, were invited to attend the opening ceremony.
IEEE Fellow and Prof. C. L. Philip Chen from Southern University of Science and Technology, IEEE/AAIA/CAA Fellow and Prof. Song Yongrui from Chongqing University, Prof. Prashan Premaratne from Concordia University, Prof. Andrew E Teschendorff from Chinese Academy of Sciences, Prof. Abir Hussain from Liverpool John Moores University, Prof. Wu Fangxiang from University of Saskatchewan, Prof. Xu Tiantian from Shenzhen Institute of Advanced Technology, Chinese Academy of Sciences, and Prof. Zhang Lefei from Wuhan University were invited to deliver speeches. Participating representatives conducted further exchanges and discussions with them in the Q&A form, fostering a sound academic atmosphere on site.
Extensive academic discussions and exchanges were held on such special topics as intelligent optimization algorithms, intelligent computing in computer vision, machine learning, neural network, image processing, reinforcement learning, intelligent data analysis, prediction and signal processing, and computational bioinformatics. The successful holding of the Conference has facilitated the in-depth exchanges and cooperation between ZZULI and other universities, institutions, or enterprises, effectively enhancing the popularity and influence of its discipline of computer science and technology.