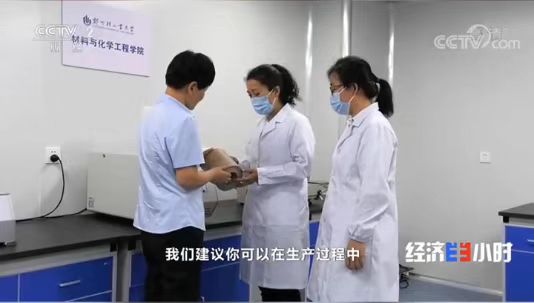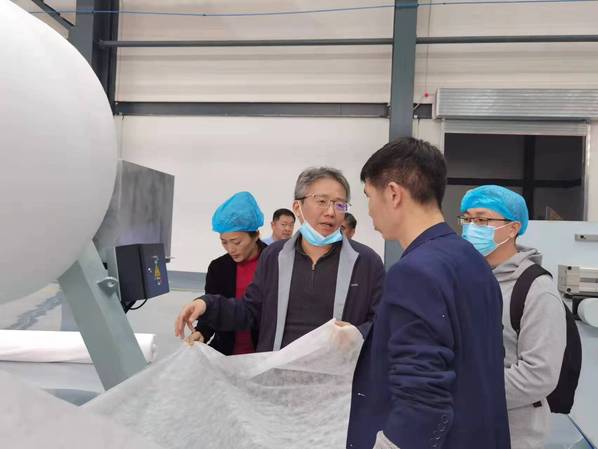 On June 23, the Half-Hour Economy in CCTV-2 Finance Channel reported the successful case of university-enterprise cooperation and innovative development of enterprises empowered by science and technology between Henan Yadu Industrial Co., Ltd. (Yadu Group) and ZZULI's College of Material and Chemical Engineering.
In recent years, while developing with high quality, ZZULI has given full play to the features and advantages of its disciplines, deeply served the major strategic demands of the nation and Henan Province, and proactively strengthened the industry-university-research cooperation with enterprises to facilitate local economic development. The university-enterprise cooperation with Yadu Group is one of the cooperation projects that ZZULI voluntarily integrates into local economic construction. In 2021, Prof. Du Miao, a Central Plains Scholar, established the "Central Plains Scholars Workstation" in Yadu Group, which focuses on the R&D and application of new nano antibacterial materials for medical use, and connects with enterprises precisely to build the industry-university-research long-term cooperation mechanism; on this basis, ZZULI and Yadu Group have jointly founded Henan Provincial Strategic Alliance of Industry Technology Innovation for Medical Protective Products. Since its establishment, the team of the workstation has solved key core problems restricting the development of enterprises, such as poor antibacterial effects, short period of validity, and single function of products, greatly promoting enterprises' innovation capacity and market competitiveness. By far, cooperating with Yadu Group, the team has published a number of high-level academic papers, applied for multiple national invention patents, and successfully developed the new type of antibacterial medical protective products. In the future, the both parties will carry out in-depth cooperation centering on the R&D of key materials in long-term antibacterial dressings and fillers and research on the antibacterial mechanism.
ZZULI has always attached great importance to the cooperation with local enterprises, and given full play to the functions of a university. It keeps enhancing its capacity of sci-tech innovation and improving its quality of talent cultivation in serving the national and local economic development. Thus, its school-running level and social influence have been raising. In future, the university will further take advantage of "Talent + Platform + Intelligence" to accelerate its high-quality development and the transformation and upgrading of regional economic industries, making greater contributions to a better Central Plains in the new ear.