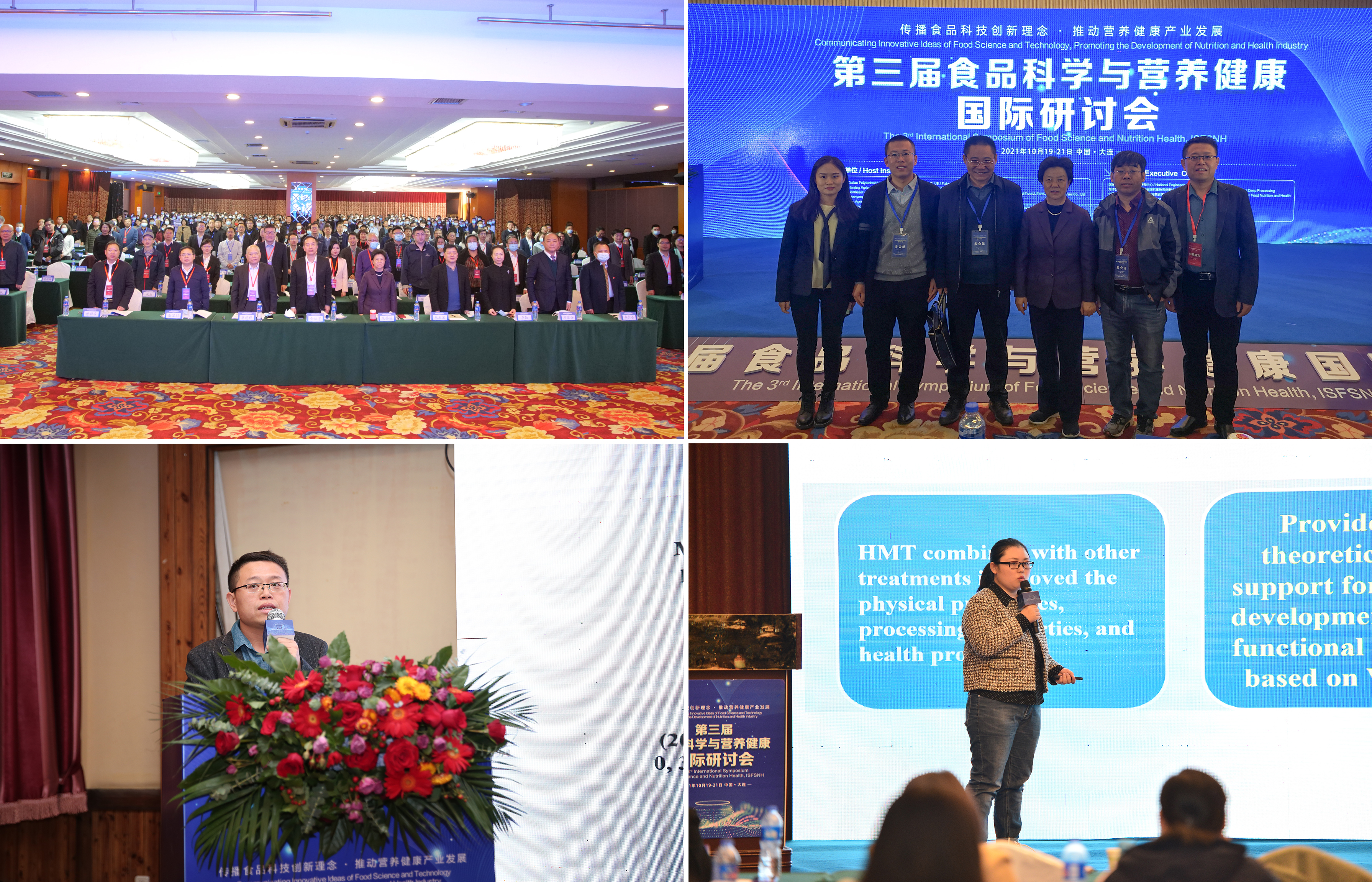 From October 19 to 21, 2021, the 3rd International Symposium of Food Science and Nutrition Health, co-hosted by Dalian Polytechnic University, Nanjing Agricultural University, Northeast Agricultural University and Zhengzhou University of Light Industry, and co-organized by National Engineering Research Center of Seafood, Province-Ministry Co-constructed Collaborative Innovation Center for Key Technologies of Seafood Deep Processing, China-Canada International Joint Laboratory of Food Nutrition and Health, Journal of Agricultural and Food Chemistry and eFood, was held in Dalian.
The Symposium, on the theme of "Communicating Innovative Ideas of Food Science and Technology, and Promoting the Development of Nutrition and Health Industry", was a combination of Online and Offline meetings. It was attended by a total of over 400 experts and scholars from more than 100 colleges, universities and enterprises in the field of food science and nutrition health, including University of Kentucky in America, Memorial University of Newfoundland in Canada, University of Maryland in America, University of Massachusetts in America, The University of Tennessee in America, University of Alberta in Canada, National University of Singapore, China Agricultural University, Jiangnan University in China; and South China University of Technology. The Symposium consists of theme forum, special forum, young scholar forum, doctoral forum and student presentation, and other activities. Prof. Zhang Hua, Deputy Dean of College of Food and Bioengineering, ZZULI, and 12 youth representatives from Henan Key Laboratory of Cold Chain Food Quality and Safety Control, attended the Symposium. In addition, academic reports under the titles of "Recent Studies in Ultrasound Technology for Meat Processing: Improvement in the Emulsification and Gel Properties of Myofibrillar Protein" and "Application of Heat-Moisture Treated Whole Highland Barley Flour in Production of Muffin Cakes", respectively were made on invitation. A number of academic posters were displayed, which demonstrated ZZULI's up-to-date academic research achievements in food science and engineering in multiple dimensions.
During the Symposium, attendees from ZZULI held lively discussions with experts and scholars at home and abroad with respects to deepening the innovation in food nutrition and health, creating an international exchange platform in scientific research of food, and innovating the production technologies of new healthy food. The Symposium promoted the foreign cooperation and exchanges of ZZULI. Meanwhile, the discipline construction of ZZULI and the platform construction of Henan Key Laboratory of Cold Chain Food Quality and Safety Control were publicized positively, and received widespread attention from participating delegates and people in relevant fields. The Conference has a great significance in further promoting the discipline construction level and the academic influence of ZZULI.