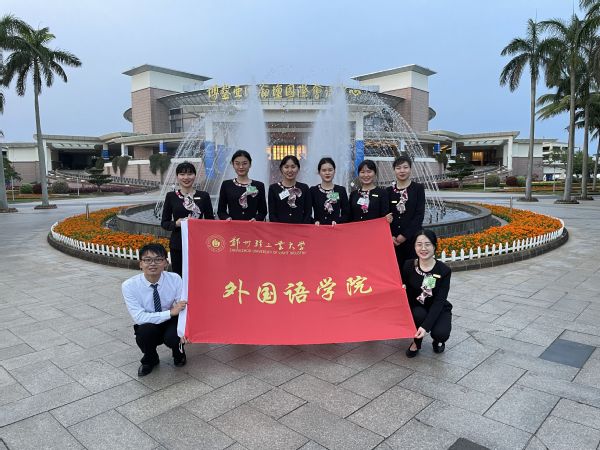 On April 18th, 2021 Annual Conference of the Bo'ao Forum for Asia, as the world's first offline international conference this year, opened in Bo'ao, Hainan Province.On April 20th, President Xi Jinping attended the opening ceremony of the annual conference via video link and delivered a keynote speech. The annual conference has attracted worldwide attention, and the translation load of the conference is even more important in this aspect. Eight teachers and students from the College of Foreign Languages of ZZULI were invited to undertake some of translation services as volunteers for this year's annual conference.
Led by Ms. Liu Ping, our volunteer interpreters, arrived at Bo'ao and began to receive rigorous professional training on April 12th. They became fully familiar to the venue and hotel environment, conference procedures, annual conference requirements and social etiquette. With the opening of the annual conference, the translation work became more and more arduous due to the participants from different countries with different English accents. bearing in mind the responsibility, as well as the university motto of "nothing is too difficult for the willing mind", voluntary interpreters fulfilled interpretation tasks with high quality without errors by overcoming difficulties and working overtime. "Interpretation Group of ZZULI" became a beautiful landscape at the annual conference.
For such a long time, we have been attaching great importance to English, Korean, and Chinese International Education programs to strengthen the professional training of students' listening, speaking, reading, writing and translation. In this way, we can have such teachers and students with high professional literacy to undertake translation service for large-scale international conferences and international events, and we have participated in the voluntary translation service organized by the government for several times. Ms. Liu Ping once participated in the translation service work of 2018 Annual Conference of Bo'ao Forum for Asia. During this period, she worked as an accompanying interpreter for Mr. Alexander Van der Bellen, the President of Austria.