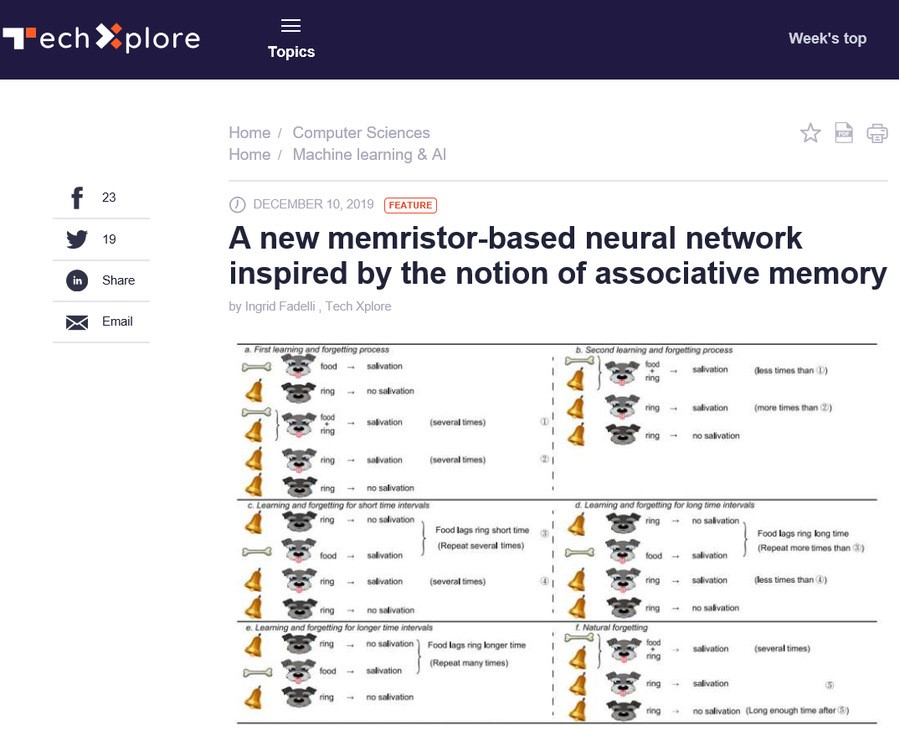 Recently, Tech Xplore, a technology website owned by Science X which covers the latest research in engineering, electronics and technology development, reported the research achievements on brain-like bionic circuits cooperated by Dr. Sun Junwei's team and Huazhong University of Science and Technology's brain-like intelligence team. The high-quality news media Science X provides daily Science, research and technology, reaching up to 5 million readers worldwide each month, including scientists, researchers, and engineers.

Currently, neural network circuits based on memory-resistance devices are a popular research direction in the field of brain-like chips. The variableness and non-volatility of resistance value of memory-resistance devices resembles the characteristics of neural synapses, which makes it possible to construct artificial neural network circuits based on memory-resistive synapses. Compared to artificial neural networks implemented by software programs running on conventional Von Neumann-architecture computers, memory-resistive neural network circuits have the advantages of high speed and low energy consumption.
The current memory-blocking Pavlovian associative memory neural network requires the simultaneous occurrence of a food signal and a ringing signal in order to generate an associative memory. To address the limitations, the team proposed a fully functional memory-blocking Pavlovian associative memory circuit with a delayed learning capability enabling associative memory to be triggered even when the two signals do not occur simultaneously. The designed circuit has the functions of learning and forgetting, variable rate learning and forgetting, delayed learning and forgetting, and natural forgetting. This research effectively implements the associative memory process in animals or humans by using hardware circuits, and is expected to be extended to more complex brain-like memory.
IEEE Transactions on Cybernetics, an authoritative journal in the field of control, publishes the research with Associate Professor Sun Junwei of the School of Electrical Information Engineering as the first author, Professor Wang Yanfeng as the corresponding author, and ZZULI as the unit of first author and corresponding author. China's web giants such as Sohu, Netease, and Prospect have released the news at the same time.
In recent years, Dr. Sun's research team, supported by the National Natural Science Foundation of China, has been working on brain-like bionic circuits. At present, the group has undertaken three projects of NNSF of China, five provincial and ministerial projects, owned 10 invention patents, and published more than 50 SCI and EI papers.
The research in Tech Xplore:
https://techxplore.com/news/2019-12-memristor-based-neural-network-notion-associative.html
Sohu Links:
https://www.sohu.com/a/359717227_114835
NeteaseLinks:
https://3g.163.com/tech/article/F04E85DL051480KF.html?isFromOtherWeb=true
Prospect Links:
https://t.qianzhan.com/caijing/detail/191211-4299fdc1.html
The paper links:
https://ieeexplore.ieee.org/document/8908696